Let's put our hands together and welcome our new product : Bumble Bee new Mini Ultra (MU) Double Pump. This is a strong yet gentle in suction breast pump, which is designed to help breastfeeding mothers to pump more milk in less time.
In addition to the hygienic closed-system that is meant to eliminate cross-contamination, here are some of the unique features that you can get from our MU Double Pump.
Technical Features:
Designed to mimic and infant's breastfeeding action
Light weight and portable
Ultra small motor size: diameter 9cm, thickness 5cm
Automatic 2-minute massage mode after switching on
9 levels of strong yet gentle suction to assist effective milk production
Ultra quiet, provides a quiet environment for infant
Petal massager can gently and efficiently release breast engorgement
Memory function will remember your last setting
Double pumping, fast & efficient to empty your breast
Power adapter and Micro-USB operation
Input 100~240 VAC, 50-60Hz
Output 5V DC, 1.5A, wattage <3W
Pumping intensity: max >50Kpa
Right out of the box, on top of one full set of double breast pump with all the necessary spare parts, you will also receive EXTRA spare parts like the following. This means, you will actually receive 4 silicone diaphragms in total, 2 in the full set of breast pump, and another 2 extra! And you also receive a manual switch kit that can convert your electric breast pump into a manual pump in seconds. This will be useful in situations that you are running out of power supply.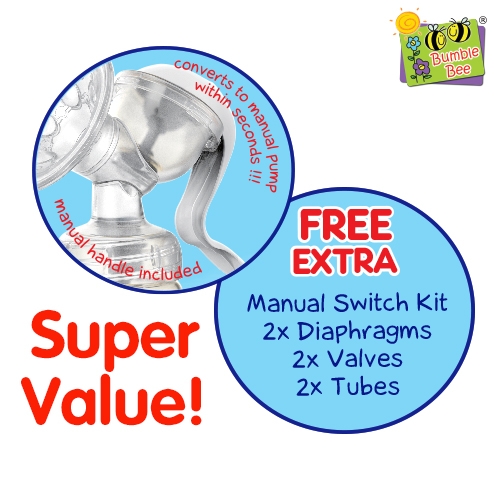 What's even more attractive that you should not be missing, purchase our MU Double Pump now and at the same time you can receive a lot more for FREE!
We are launching this super-valued package that includes:
MU Double Pump x1 set
Premium Disposable Breastpad x1 Box
PP Breastmilk Bottles x1 Box
Baby Safe Liquid Cleanser x1 Bottle
PES Bottle 4oz x1 unit
It is a total worth of Rm540.70 but it costs you only Rm399! What are you waiting for?
This breast pump receives a 12-month limited warranty from the date of purchase.